Krystal Garrett is one of the writers whose stories are featured in the soon-to-be-published anthology The Haunted Train: Creepy Tales from the Railways.  Here she answers our questions about reading and writing horror fiction.
What do you like about the Horror Genre?
I like to be scared. I look forward to feeling my heart beat against my chest as I grip my blanket.
Who is your favourite horror author?
Stephen King. I enjoy how he instils chills through my body with his storytelling. I like how much he loves what he does.
What's your favourite Stephen King book? What do you like about it?
 Pet Sematary is my favourite horror book because the horror elements serve to accentuate human drama. Death is very real and everyone in life experiences it.
What gives you the creeps in real life?
What-if moments. Was that really just the house settling or was it a ghost walking through my walls, moving photos. Is that just the wind howling or was a monster screaming in the night?
 Where do you find inspiration for your writing?
My inspiration comes from dreams that I have. Many would view them as nightmares, where the dark, evil, scary ideas manifest into quests that I get to bring to life. Once I finish my debut novel I hope to continue to share these quests with my readers in the form of novels and more short stories.
 What's the best thing you've ever written?
 My short story in The Haunted Train is the best I've written so far.
 What are you currently working on?
 I am currently working on a dark fantasy. It is a creepy, disturbing thriller set in a magical world in the Midwest. My heroine is a witch that is expected to ascend to High Priestess, but she must follow her own path to save the lives of those closest to her.
 ABOUT KRYSTAL GARRETT
Krystal  a paramedic by day and a writer by night. She lives in Midwest USA with her husband and three daughters. Her love affair with horror began as a child when the good guy doll, Chucky, graced her TV screen. She loves all things horror.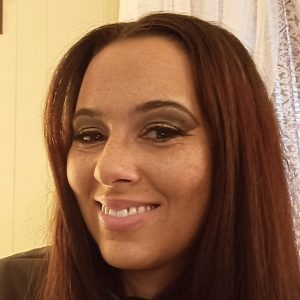 ABOUT THE BOOK THE HAUNTED TRAIN: CREEPY TALES FROM THE RAILWAYS
 Come on board for a Gothic journey in a funicular railway in Victorian England, a freight train in the Carpathian mountains, a high tech sky train in Bangkok, an underground railway in Tokyo. Visit stations which lure with the promise of safe shelter but harbour unexpected dangers. Meet the people who work on the tracks – stationmasters, porters, signal-men – and those who travel – commuters, tourists, dead bodies, murderers and ghosts.
In this volume, editor Rayne Hall has collected twenty of the finest– and creepiest – railway tales. The book features the works of established writers, classic authors and fresh voices. Some stories are spooky, some downright scary, while others pose a puzzling mystery.
Are you prepared to come on board this train? Already, the steam engine is huffing in impatience. Listen to the chuff-chuff-chuff from the locomotive and tarattata-tarattata of the giant wheels. Press your face against the dust-streaked window, inhale the smells of coal smoke and old textiles, watch the landscape whoosh past as you leave the familiar behind and journey into the unknown.
But be careful: you can't know the train's real destination, nor your fellow travellers' intentions. Once you've closed that door behind you and the wheels start rolling, you may not be able to get out.
The ebook is available for pre-order from Amazon at the special offer price of 99 cents until 31 January 2023. (After that date, the price will go up.) https://mybook.to/Train .
The paperback edition will be available soon.