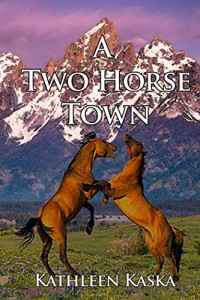 A Two Horse Town opens with a visceral scene. It's a moonlit night in Big Sky Country. An acrophobic woman scales a boulder ever aware that one wrong step, one slip of a sweaty palm, could lead to a painful-at-best fall. A straight-outa-the-chute beginning to an excellent mystery.
Kate Caraway hadn't anticipated how much she would miss Kenya, a place where she immediately felt a sense of home, and a research position that fulfilled her. But her husband had a prime job opportunity, so they moved to Chicago. Disliking her work at the University of Illinois, she eagerly agrees to help her student, Nate Springfield. She takes a leave of absence to go to Montana to save wild mustangs endangered by a purposed dam which would leave them without a water supply. Soon after her arrival, Kate discovers a dead body, that of her student's grandfather. When Nate becomes the prime suspect, Kate struggles to not only save the horses, but also to clear his name.
In Montana, Kate stays with Nate's great-grandmother, Ida, a gun-toting nonagenarian. She is against the building of the dam, but her reckless outspokenness may work against their cause. Kate also senses that Ida is not as forthright as she seems.
Time is against Kate, and the enemies aren't afraid to use deadly force. I won't spoil the ending, but will say it is full of heart-racing excitement and fascinating revelations.
When I read the vivid descriptions of the settings—so bright, compelling and very much a key part of the story—Nevada Barr's series is brought to mind. Kate Caraway has much in common with Barr's main character, Anna Pigeon. Both feel strongly about protecting the environment and both have the willingness to take on an active role.
Like a mustang, the story gallops across the pages and I flew like a rider, gripping the horse's mane in exhilaration. I encourage you to take that ride too. You won't regret it.