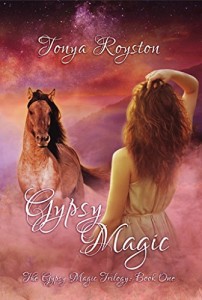 Who hasn't had an event in life so bad, that you wanted move on, both literally and figuratively? When Gracyn has an opportunity to do so, she seizes it. Her mother is offered an overseas promotion, which she refused, unwilling to uproot Gracyn her senior year of high school, despite the many alternatives Gracyn suggests. To the main character's surprise, her long-lost sister comes through, offering to take Gracyn in.
Adjusting from living in a big city to a small town, making new friends, and fitting into the rhythm of life in her new home is expected, however this move isn't typical and Gracyn is faced with surprising changes and challenges.
Gypsy Magic is a well-paced YA book with engaging characters. The teens are depicted accurately. I was raised in a small town and yes, we gathered around bonfires and drank beer. When there's not much to do, young adults find ways to occupy their time—often in activities that adults wouldn't approve of. Royston inserts fully-realized parental figures in a believable manner. In some books, the adults are cardboard figures, not touched much upon, or portrayed as idiots.
I loved that horses were prominent in the book and I totally get Gracyn's fear of them. (Hey, they're large, have hooves and chompy teeth.) I'm a big-time animal lover, so I'm always thrilled to see them in books, and yes, I love horses too. When I finished this book, I was eager to find out what would happen next.