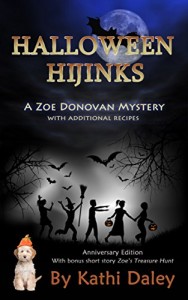 Halloween Hijinks (Zoe Donovan Mystery #1) by Kathi Daley
Halloween is my favorite holiday and I love a good mystery, so of course, I had to get this book. The main character, Zoe Donovan, has many characteristics I admire. She is an animal-lover who fights to find a forever home for every stray and nurtures every hurt or needy wild animal. She has a good heart, and, despite having a busy job as an animal control officer, is one of the first to aid those who need help. Mysteries fascinate her and she is eager to seek out clues.
Since this was the first of a series, much time was taken to introduce the main characters. Zoe has two close friends she has known since they were kids, Ellie and Levi. Levi has his hands full with training the high school football players for a game against one of their biggest rivals. Ellie and her mother run a bakery. Thrown into the mix is Zak, Zoe's nemesis starting back in seventh grade. I enjoyed the interactions between the characters and Zoe makes a couple of surprising discoveries about her nearest and dearest. When a dead body is found, Zoe is determined to root out the perpetrator.
I read a wide variety of books including some very gritty, explicit crime novels, but sometimes I'm in the mood for something sweet. Halloween Hijinks is a clean, cozy mystery that was exactly what I craved, a sweet whodunnit with little violence and sexual content.